Cosentino Ireland, best known for its high-performance sustainable brands like Silestone and Dekton, is excited to announce that it has collaborated with Irish company Grown Forest to plant 300 trees in Ireland over the next year and plenty more in the years to come.
Mark Burke, Regional Director for Cosentino Ireland & Scotland said, "Cosentino Forest is an incredible initiative to endorse our commitment to the environment and continue our quest in becoming an increasingly sustainable company. There is no future without sustainability and our motto is that we need to take care of the present to protect the future. In Cosentino, we've implemented different sustainability strategies including using renewable and clean energy sources in the production of Dekton and Silestone as well as recycling 100% of the water used in the production of Silestone. With Cosentino Forest, we are reducing our carbon emissions and multiplying biodiversity leaving a footprint on people's lives, and not on our planet."
Neil McCabe and Damien Bligh founded Grown Forest in 2019 after a Black Friday stunt went viral. The eco-conscious entrepreneurs were encouraging people to plant a tree instead of buying more clothes and sold 800 Oak trees in one day.
Neil McCabe explains, "At Grown Forest, we plant native Irish trees in Irish soil with only one goal – that the trees will outlive us forever on protected land to ensure the longevity of the forests and our project. In a nutshell, Grown Forest is joined-up collections of land sweeps all over Ireland and abroad used for reforestation, decarbonisation, protection of ecosystems and development of personal wellbeing in today's resource dependant society."
There has never been a bigger interest in carbon off-setting, planting trees and developing meadows. We are bridging the gap between people's best intentions and the reality of actual reforestation with actual actions."
Damien Bligh & Bláthnaid Treacy planting trees in Co. Wicklow
Neil continued, "We're delighted to be Cosentino's planting partner and we will be planting native Irish trees on our land around Ireland over the coming years. We will be plating Oak, Yew, Holly, Hazel, and Birch trees and together we are creating "Cosentino Forest". So far, we have had a planting day in Wicklow and we planted native hard woods. It's an extremely collaborative initiative and we are excited to begin this incredible synergy between our like-minded companies."
Cosentino Forest aims to plant 300 trees in the first year in partnership with Grown Forest in its mission to rebuild and revive Irish Forests.
Hugh Wallace, Cosentino Ireland's brand ambassador was also on hand to help plant a mature Oak tree at Cosentino Ireland HQ. Itan Garrido, Cosentino Ireland Marketing Manager said, "The story behind the tree in Cosentino Ireland HQ is that we wanted to have a little bit of our Forest in the city. It's a symbolic tree which reminds us at Cosentino, and everybody visiting the office, of this great initiative we are doing to offset carbon emissions in Ireland and Scotland through the reforestation of Irish Forests."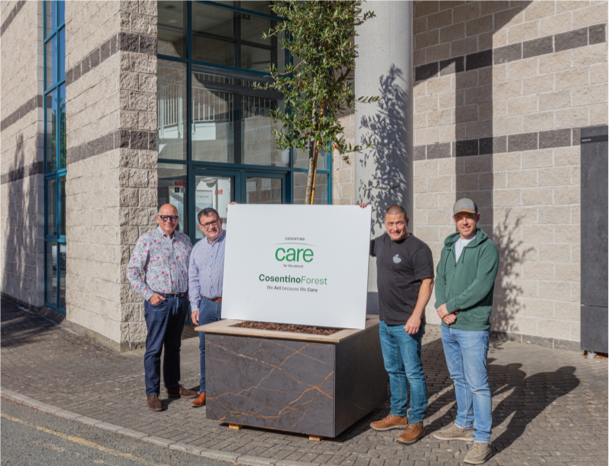 Hugh Wallace pictured with Mark Burke, Neil McCabe and Damien Bligh at Cosentino Ireland HQ.
Cosentino Forest aims to plant 300 trees in the first year in partnership with Grown Forest in its mission to rebuild and revive Irish Forests.
Find out more information about Cosentino's journey to sustainability here.